SELECT A PRODUCT FROM THE LIST BELOW
Hypo-osmotic Swelling test
Sperm vitality test

The hypo-osmotic swelling test is a sperm vitality test based on the principle that live spermatozoa swell due to the absorption of a hypo-osmotic solution.
The HOS test is based on the test procedure described in the WHO laboratory manual for the examination of human semen and sperm-cervical mucus interaction (1999).
The HOS test has a shelf life of 12 months from date of produce.
The hypo-osmotic swelling test has been CE marked according to the specifications set forth in the European Medical Device Directive 98/79/EC.
We recommend to watch our demonstration video of the HOS Test:
https://www.youtube.com/watch?v=baDU3ktNC-w
Regulatory
Europe: CE-marked - Canada: Health Canada License
Brazil: registered - Australia: registered
Product order codes
| | |
| --- | --- |
| HOST | Hypo-osmotic Swelling test - 5x 20ml |

Literature

Micinski P., Pawlicki K., Wielgus E., Bochenek M., Gogol P., Ficek B., Total reactive antioxidant potential and DNA fragmentation index as fertility sperm parameters, Reproductive Biology (2011),Vol.11,No.2,pp.135-44

Background information

Drevius L.O., Eriksson H. , Osmotic swelling of mammalian spermatozoa, Exp Cell Res (1966),Vol.42,No.1,pp.136-156

Jeyendran R.S., Van der Ven H.H., Perez-Pelaez M., Crabo B.G., Zaneveld L.J. , Development of an assay to assess the functional integrity of the human sperm membrane and its relationship to other semen characteristics, J Reprod Fertil (1984),Vol.70,No.1,pp.219-228
Resources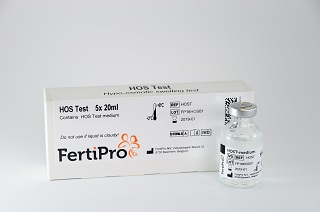 Click on the links below for more information.